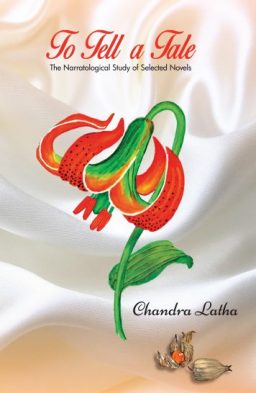 To tell a tale-1
-Chandra Latha
On the Other Note
(Intro: To Tell a Tale)
      "Why do you need a Ph.D.? Instead, focus on your fiction. Your fiction is expected for both research and study."
      "Any student can be trained to write a dissertation, but not to write fiction. Mind it!"
      "For sure, your fiction writing is going to be affected terribly by the grave academic narrative style 
that you will eventually and  inevitably acquire during the course."  
      "You can write better in Telugu."
      "Honestly, don't waste your time. Just mind the fiction writing that you are good at."
       These were few opinions, concerns, and suggestions by the academia of English departments of different Universities, I contacted in 2007, during my early attempts to register for my Ph.D.
      Sincerely speaking, why do I need a doctorate?  A Ph.D. is not required for my career or for the namesake.
       Then, how does Ph.D. become so important to me? Honestly, why do I want a Ph.D.?
      I am a writer in Telugu, the second largest spoken Indian language around the globe. Initially, I am a student of literature.
       My Junior college (11th and 12th classes of the senior school) period, during 1984 -86, was quite a shift from my schooling in Telugu Medium to English Medium. Most of my classmates were from the twin cities top English medium schools with Central School Board Syllabus. For a Telugu medium student like me who recently moved to Hyderabad city, from a small town, Mahabub Nager, the admission into such a prestigious college was a big surprise. Even though I was a National Merit Scholarship recipient in my School board exams at Madapati Hanumantha Rao Girls High School, I was totally unprepared for such a high standard English Medium college.
       After the admission at St.Francis college, I tried to prepare myself, by attending a summer class in spoken English. That exposure was important to me, even though it could only improve my listening skills.  At my new college, except for the basic communication, I was hardly ever involved in the peer group conversations. My thoughts were in Telugu and I had to translate my ideas into English. 
It was an uphill task. I always remained a quiet spectator and silently watched how my college mates talk, discuss, debate and differ, in fluent English, about books, cricket, films, politics, fashion, and, of course, boys.
            St. Francis had a huge library and encouraged students to read books. Reading English books, singing English songs and carols, watching English films and so on, were something new to me. During my library time, initially, I spent my time reading Telugu novels. Within a month or so, I completed reading most of the Telugu fiction collection at our college library. Then, I started reading English books, beginning with the children magazines, Amar Chitra Katha, Tinkle Digest,and then, moved on to read the magazines like Reader's Digest, Outlook and Woman's Era.
            I don't remember reading English novels except Robin Cook's Fever and Jeffery Archer's "Not a penny more not a penny less."  I even tried to read Willliam Peter Blatty's  Exorcist with great difficulty. But, I couldn't complete it, as handling horror in the library time was just impossible.
At that time, the adapted versions of these novels were quite popular in Telugu Magazines. Perhaps, my curiosity to know the original story made me pick those books. I couldn't help admiring those talented Telugu Writers, who adapted these novels and, made them suitable narratives for Telugu Readers. But, Somehow, I wasn't convinced.
        Telugu literature has a great many translations from world literature and Indian literature, which enriched Telugu literary culture. But, by those norms and values, these popular fiction adaptations could hardly be considered as translations. This pulp fiction was a kind of polished piracy, without any acknowledgments to the original writers. It was not at all positive news to me. As a young reader, I began to suspect the authenticity of the other Telugu writers as well. This revelation was a hard shock and a harsh blow on a young reader's mind. On the other hand, I realized that reading the original works was a great creative experience.
         Immediately after my final exams, during the summer vacation of my Junior College, I got married.   I moved from a city, Hyderabad, to a small town, initially to Kurnool and within no time, to Nellore.
        Thanks to Andhra Pradesh Open University, (Later Ambedkar Open University), and initiation of my father, I could continue my studies without any gap.  In my Junior college, Mathematics and Chemistry were my favorite subjects. I had to give up Chemistry as an optional subject in under graduation, as I was not expected to attend any contact classes or lab practical classes conducted by the University. Later, I couldn't even attend the University Convocation in person to collect the Gold Medal awarded to me for securing the University First in BA.  Instead of these laurels at University level, I was not really happy. 
         I was very excited and glad that I could continue my studies, so naturally, I opted the self-study than no-study.   I chose the optional subjects that I can prepare on my own, namely, Mathematics, History and, English.  Self-preparation was a creative experience. I thoroughly enjoyed solving the challenging Mathematical problems myself. Algebra, Calculus, Trigonometry and Numerical Relations were my favorite topics. Geometry was quite delightful. Permutations and combinations were great fun. However, I was always unhappy and had occasionally felt paralyzed with my swarming thoughts like whether I was right or wrong in taking this route and learning these subjects.    
    At times, I used to get stuck with some unresolved Math-problem or the other. My limited knowledge and understanding of the subject were overwhelming. Sometimes, it was a theorem that was too abstract or a problem that was too complex. I used to feel terrible when I felt that I was missing some simple logic in solving that particular problem. I began to feel the need of a teacher who could have formally explained me these tough problems, complex theorems, and applications.          
      Preparation for Mathematics at the higher level is quite laborious. It demands a considerable amount of time and proper desk work. During my BA final year, when my admiration for Mathematics evolved into a deeper passion for Mathematics, I realized that my preparation was more challenging than ever before. In addition to my regular household works, it was my progressing pregnancy and sooner, the childbirth that challenged my Math preparation and eventually, my passion. 
         At that time, Open University was not yet offering Post Graduation courses. But, it was the School for Distance Learning and Continuing Education, Kakatiya University,that invited applications for external PG courses.
      When I had to choose my optional subject for MA, I would have considered anything else but Mathematics. Within my limited experience, I felt that it is impossible to self-study Mathematics at PG standards, without any academic guidance and help. On the other hand, if I didn't enroll in my PG courses at that moment, I somehow strongly felt that I could never continue my education. Without further thought or delay, I filled in the PG application form, sitting on my ante-natal bed and I quickly ticked English Literature for MA. 
    Soon after I posted my application to the University, I began to wonder what was English literature to me? Was it Stopping by woods or Ozymandias or  King Bruce and the spider or Pip's Apple Pie in The Great Expectations? Was English a book, a song or a film?     
      With great respect, I realized that Mr.Surya Narayana, our  Mathematics Teacher at our hometown, Mahaabub Nagar, ignited the zeal of Mathematics in me. And, it was his colleague, English teacher, Mr. Veera Vasantha Chary, who seeded a flair for the English language and literature. I began to relive the moments of my admiration of the English classes and my reverence to our English Teacher, Mr.Chary, who used to teach us English with such grace and great passion. He used to fill our classes with the beauty of the words dipped in his mellowed deep voice.    
     It might have been my healing process or seeking solace, in the fact that, I sabotaged my passion for Mathematics myself, I began to make friend with the current opted subject, English Literature. Rather than standing up for my passion, I might have begun to accept the new, inevitable, one and the only option, I was left with. It was not a conscious effort, but, it was obviously a difficult period to convince and console myself. I sought for that solace within my limited space and freedom and within the given circumstances.
      I began to look back into my BA English which introduced me to the aesthetics of the literature. Whether it was the beauty of Daffodils or the Grecian Urn or the simplicity of The Village Schoolmaster or the grandeur of The Tempest and Julius Caesar or the wit of The Apple Cart, I began to appreciate English Literature more and more, as it stood up tall as the one and only choice of an enthusiastic young student who had just turned nineteen.
      When I used to regret leaving Mathematics, that set a huge mountain 'tween my heart and tongue! ,   it was Portia, who consoled me by holding up the mirror to the ways of the world with a revelation that,                 
        I have a man's mind, but a woman's might.
       How hard it is for women to keep counsel!      (Julius Caesar , Act 2 Scene 4)
         These crystal clear lines of Portia from my BA lessons, sunk into the bottom of my heart and became my reality check, ever since. 
           How true, The noblest of all, "Et tu Brute!"
                  When I unpacked the bundle of books prescribed for my new MA syllabus, I was extremely excited. Immediately, I realized that the study of literature is as complex as any other science.
        Until then, English was a thing of beauty and a joy of reading, but now, I began to explore the art and the science of literature that is the splendid testimony of human life down the centuries, across the globe, over the multiple cultures and different ideas, developed into various genres.
           Language and literature, history and evolution, the precept and the concept, the analysis, and the critique, subjectivity, and objectivity, the multiplicity and the plurality, uniqueness, and diversity and so on, all tightly packed in a scholastic expedition. It turned out to be much deeper, wider, spectacular and complex than I expected. I had no clue or no preparation for such an intense and methodological study.
However, my limitations in learning the subject with my humble self-study raised many new challenges. I quickly realized the need for a formal teaching platform. That idea of formal education was seeded deep into me.
      The first book that I had to study was  Geoffrey Chaucer's  The Canterbury Tales (1389). 
       I was in total confusion and dilemma, to begin with, the pronunciation of the author's name itself, Chaucer.  'Was it chaakar, kaasar, choukar, chousar, kousar  or any other way to pronounce it?  Was I able to understand the plurality of the text? Was my English good enough to prepare the notes? Was I able to answer the given questions? Was I right or wrong? Where and how should I improve my answer?'  The list of dilemmas and doubts was endless.
    It was 1989 to 1991, computers or the internet were not yet accessible. My good and old English dictionary was the only resource I had.  To my utter disappointment, that dictionary didn't help me to pronounce names.   
It was then, John Milton reminded me gently, 
      " The mind is its own place, and in itself 
       can make a heaven of hell, a hell of heaven."   (John Milton, Paradise Lost)
      Within the given circumstances, I tried to explore the resources available within my reach and domain. One of our neighbors, Mr.Vishwanatham, an English Lecturer, agreed to give home tuitions after his college time. But, his classes were asked to be stopped without any explanation.    I was left at the square one, self-study or no-study?  Once again, I opted for the first choice.
       In his few classes, Mr.Vishwanatham introduced me to the Linguistics and a couple of exercises in Phonetics. I understood how important it was to have a formal education. It was unfair that those amazing classes were closed without any discussion or debate in my family, leaving me in utter disappointment.  I quietly and quickly resorted back to self-preparation, however, limited it was.
    Without much delay, I began to explore the abundance and radiance of literature. The healing touch of literature was immense. I began to enjoy the wit and humor, the satire and the irony, the poetry and the prose, the perfection of the word and the imperfection of life, the fact and the fiction and so on.
Whether it was Hamlet's soliloquy or Satan's speech or an ode to a nightingale, it was my little baby's lullaby. She became my learning companion. Later when I received my Gold Medal for my University First in MA English Literature, she was a cheering toddler. And, she fancied wearing the medal herself and excitedly ran around the protocol restricted Convocation Hall, with great pomp and show.
          Soon after the convocation, without much introduction about the person, my father took me to meet one of the important literary scholars and Professor of English, Prof. C. Subba Rao.
    At that time, Prof. C. Subba Rao was in the administration office of Andhra Pradesh Open University.     We met Prof. C. Subba Rao, in his office, on bright midday. After a brief conversation about my engagement with and experience in learning English literature, and, after learning about my deep-rooted unhappiness in my inadequate self-study,  he right away suggested that I should pursue higher studies, a Ph.D. in English.
    With a gentle reminder of Francis Bacon's quote, Reading maketh a full human, he suggested that I must continue my reading beyond the assigned syllabus, no matter what happens in whatever juncture of life.  Then, he gave me a quick list of authors to study and talked about the beauty and charm of book reading. This conversation made me realize and consider that literature is not just part of a syllabus, but a part of life itself.
     Within a few days, Prof. C. Subba Rao  came up with a short list of universities, one in Tamil Nadu, the other in New Delhi, that offer the long distance Ph.D. courses with a few weeks of contact classes. This was the minimum expectation from the scholar from any university. 
   For a person who couldn't reach the neighborhood college or meet the scholars next door, these choices were remote possibilities however tempting they were. However great the chances were, I buried the idea of pursuing higher studies deep inside my heart, due to various unforeseen personal circumstances that swarmed in.
         Instead, I began to write fiction and non-fiction in Telugu. I have written and published a considerable number of stories, articles, and novels.  This new status as a vernacular write, enabled me to have exposure to various writers from different Indian languages. I began to feel the gap of  nominal Telugu literature appeared in mainstream Indian Literature and World Literature. In comparison with the magnitude of Telugu speaking people across the globe, the presence of Telugu in global literature was almost minuscule. Very few Telugu books got translated and available to the wider readership. 
     Telugu Writers have contributed significantly to the thought and action. Their literary influence played a great role in the Telugu community. I had also come across many people and groups who were sincerely working on Telugu Language and literature.  I wanted to know, understand and do something about it, however small and humble my attempt may be.  English can be an appropriate medium to reach a wider readership, including the recent generations of readers of Telugu origin who got alienated from Telugu literacy. Within my knowledge and accessibility, I started conducting Telugu Workshops in creative writing for young Telugu students.
I wanted to upgrade myself and wanted to study Telugu Novel more methodologically and scientifically, with the application of the latest academic tools available, under the supervision of the expertise, in other words, I wanted to pursue a Ph.D. on Telugu Novel in English. In a way, the new liberalized policies of the Universities opened up fresh opportunities for distance and part-time research and study. I decided to approach various English departments with my proposed topic.  In that quest, I was reciprocated with the above-mentioned concerns from the academicians about my idea of a Ph.D.
    By the time I approached  Prof. Narendra, I was already disillusioned with some of my early ideas about Ph.D. And also, I was prepared to address few concerns I came across earlier.  As Prof. Narendra was an eminent Telugu Fiction Writer himself, it was like conversing with a live example of a person with the perfect blend of creative writing and scholastic study.
For any research scholar, consent of the guide is more important. I met him at his office at S.V. University on my way to the Work Shop at Rishi Valley School. Prof. Narendra was totally unprepared for the unexpected request.  Prof. Narendra was not at all convinced, even after a day-long conversation with him defending my idea of Ph.D. He readily disagreed with my idea of Ph.D.  He was more positive about my creative abilities as a fiction writer. He strongly felt that I should focus on my creative writing. However, he asked me to give time to think over my request.
     On my return journey from Rishi Valley, I stopped again at his office, to resume our inconclusive conversation. Prof. Narendra agreed to supervise my study with a couple of conditions. The first one was I could quit  Ph.D. at any time to continue my fiction writing. The second one was, I had to work and write on my own.
The circle seemed to be complete. By 2008, the computer and social network with its unlimited resources and easy accessibility created a new trend in teaching, open and self- learning. A teacher is now a good facilitator. My professor was insisting on the non-existence of the guide in any phase of the research and dissertation writing.
      I got my provisional admission into Ph.D.in April, 2008 and the final admission in May 2008. To fulfill the mandatory requirements from the Department of English, I had come to terms with few things. The first compromise was my topic.
      There were not enough number of Telugu novels translated into English.  When my professor suggested me to select any other language novels, I quickly selected the present novels.  I was particular about including more Telugu novels. But, I could add only two. For any research study, secondary sources are as important as the primary sources. In comparison with the German, Spanish and Italian novels, Telugu novels had less secondary sources.
      In fact, collecting the primary source itself was a difficult task. Thanks to Mr.D.Kesava Rao, who translated Puppets, shared a photocopy of the only complimentary copy that he had.  It was a generous gesture of  Mr. Saichand  Tripuraneni , son of Gopichand , to send me multiple copies of The Bungler, immediately after I got in touch with him. My sincere thanks to Dr. Uma Gavini, daughter of  G.V. Krishna Rao, for her immediate response to my personal interview. 
The effort to collect the primary sources, made me understand that English translations of Telugu novels are few and the translated novels are not widely available. So, When I wrote the chapters of Telugu Novels, I focused on 'what was told' before I discussed about 'how it was told.' Telugu novels were a real challenge in comparison with the other three internationally acclaimed complex texts. This herculean task made me more conscious of the need for more primary and secondary sources of Telugu literature in English.
     My Supervisor's concerns about my creative writing were genuine. After my second major novel, Drushyaadrushyam, was published in 2003, it received immediate acclaim of both critics and readers and brought good laurels and a couple of State Literary awards. However, this spectacular success descended me into a deep slumber. Success made me more venerable and very sad. Since then, I was seldom engaged in any social appearances or activities.  Unspoken and unexplainable set of rules silently seeped into my life and restricted me to two squares, my home, and my office.  
Like most of my well-wishers, perhaps, my Supervisor was also genuinely concerned that I might never write again. On the contrary to these concerns, ever since my Ph.D. admission, I had a kind of exploded in writing Telugu, both fiction and non-fiction, as if literature liberated me.
The internet opened new doors for my writing. I started exploring social network with my two blogs. I published a few stories and a novel. I intensified my creative writing workshops. I worked on the controversial B.T.Brinjal issue and published a book, few articles, stories and went on to address the issue in the official public hearing. 
       I founded Prabhava, a center for literature and culture, with a bookstore with the exclusive collection of both Telugu and English Literature. Within no time, Prabhava became a center for ESOL courses, Trinity College London.  Eminent English teachers, Mr. H.S.V.K. Ranga Rao, Editor, "English Teacher" and "Lahari,a bilingual literary magazine," and Mr. Chandra Kumar were my colleagues in teaching English at Prabhava.
          One evening, to my great surprise, Mr.VedamVenkataraman, an eminent English Scholar, Lecturer and our neighbor, whose student I wanted to be during my M.A.student days and whom I could never meet on my own, walked into Prabhava along with his close friend and his colleague at V.R.College,Mr.Ch.Sanjeeva Rao, a Mathematics  Lecturer. Mr.Vedam was very excited to find the complete works of P.G.Woodhouse,  Rabindranath Tagore and RK Narayanan. In turn, Mr.Vedam  gifted me the precious copy of  his Sahitya Academy awarded scholastic commentary on the Sanskrit classic "Kadambari." 
     Mr.Ch.Sanjeeva Rao was a great fan of Science Fiction. There were many books to talk about,  like H.G.Wells Time Machine and War of Worlds to Isaac Asimov's Robot, The Fly by George Langelaan to Michael Crichton's  Jurassic Park and soon.  During our long conversations, Mr.Ch. Sanjeeva Rao used to talk about how Mathematics evolves as the philosophy of life.
        One more important reader who befriended with Prabhava, was Mr.Vemulapati Anantha Ramayya, a senior advocate of Nellore. Leo Tolstoy, Fyodor Dostoevsky, Maxim Gorky, John Steinbeck, Émile Zola, Noam Chomsky and of course, Sri Sri and others, became part of our book talks. With all these serious readers of that time, I was overwhelmed with the brilliance, the radiance and the magnitude of literature, Telugu to the World, which filled me with immense happiness. And, in April 2010, I appeared for my Pre-PhD examination.
      Interestingly, in the same examination hall, sitting in the same row as me, Mr. Harikrishna, a research scholar who was working on my Telugu fiction, was also writing his Pre-PhD examination.
    This examination was the real 'back-to-the school' moment for me. The distant sunlit hills, visible behind the trees that grew close to Examination hall windows, the blackboard with the list of roll numbers, the right hand desk-chair, rustle bustle of the university supplied raw papers, my super slow-moving gel ink pen, my generous fellow student who shared his extra ballpoint pen, invigilator's silent walk , rush for additional sheets, the last caution bell, clicks of punch machines, tying up the answer sheets with a little cotton thread running through the punched corner hole, so many good  moments to treasure!
  After the examination, I announced to my supervisor that I would submit my dissertation at the earliest date possible within that academic year. I had already completed writing chapters on Introduction, Marquez and Grass's novels and, a major part of the Gopichand's novel.
       My Supervisor was much delighted to receive my new Telugu novel. He acknowledged that so far  I  had satisfied his initial conditions. He encouraged me to submit the dissertation any time soon and focus more on my creative writing. He expressed his confidence that my creative writing will be enriched by my study during Ph.D.
       Immediately after the exam, Mr. Harikrishna , who was to be awarded his Ph.D. within the next year, interviewed me for his thesis. Mr. Bhaskar Naidu who was working on my novels for his M.Phil, in our University at that time, accompanied him. The first question Mr.Harikrishna asked me, without holding his surprise to find me in the examination hall was, "Why do you need a Ph.D.? "        
      I replied to him with a childlike smile, "For my positive engagement with the life !" 
  When I discussed publishing this book, To Tell a Tale, with my supervisor, he had something important to talk about. He asked me to write my sojourn of the Ph.D. and what it means to me. I wasn't at all ready for writing more. He told me with the same voice that dictated me the initial conditions before his acceptance to be my Research Supervisor, "Consider this as the last assignment of your professor. I understand while writing the thesis, you were confined by the rules and made compromises. But now, you are free to write whatever you want. Nothing can hinder your narrative. No more Dissertation norms or not even MLE rules. You are totally on your own!"
         After a couple of conversations, I began to write "On the Other Note."
       In general, my narrative was more subjective, whereas thesis narrative is objective.  In academic writing, every sentence needs a citation. As a fiction writer, I seldom give citations. I had my obsession with my own ideas that swarmed in my head. I wanted each and every idea to be inked, but, soon I realized that I can only write the ideas if I can give citations. My ideas are not to be considered or accepted, however creative or original they are until and unless I present them with a citation. This need to create a defense for the fresh ideas made me explore more and more. And, my notes were quite bulky and sometimes, it moved far away from my topic. My Supervisor needed to remind me often, to get back to the track and focus.
         I am a voracious reader. My curiosity to find clues to interpret the selected novel in the other writings of the same writer, made me collect too many books, interviews of the selected writers as possible. At times, I used to get easily distracted, simply out of my curiosity to read new books.
       Almost half of the chapters of the present book were written between 2008 and 2010. By the time, I received my Pre-Ph.D. results, most of the planning was done and the structure was designed. Except for the Chapters 6 and 7, I finished a considerable part of the book. I planned for the submission by the end of the academic year. But, my Ph.D. work faced a sudden halt.
    In November 2011, unforeseen circumstances descended both at home and work. My father and our company chairman passed away. He was my administrative mentor and literary friend. His demise created a huge gap and we were in sudden troubles. As if to heal myself and to handle the mounting up financial crisis, I founded  Prabhava School in 2012. At the beginning of the second academic year of the school, I became a widow and a single parent.
            I was totally lost in the shock and pain. The immediate aftermath issues demanded my full attention. Dealing with my family problems, emotional emptiness and surviving the darkest moments our life, I had no choice but to hold, working on Ph.D.
           As mystic as the message passed on by the row of seven hills that distantly lace our university, one afternoon Mr. HemaSekhar , Office Assistant, Department of English, called me over the telephone. With his equally misty voice, Mr. Sekhar passed on a gentle reminder from the department that my Ph.D. registration was at the verge of risk unless I appear in person and extend my study period. I am asked to report to the office at our department at the earliest date with all the correspondence done until then and review the progress of research to the HOD along with my supervisor.
           As if I was raising from the ashes, I woke up from those shattered and depressed times. I had no choice but, to move on. I began to gather my work plan and the earlier written chapters and went to meet my guide and our Head of the Department, Prof. G.M.Sundaravalli. 
     I met Prof. Sundaravalli first time when Sahitya Academy conducted 'South Indian and North-East Indian  Literary Conference' at S.V.University. I was an invitee of the Academy and was presenting my Telugu story. She accompanied me those two days, as the hosting friend, whether it was the Srinivasa auditorium or the dining hall, we both shared several hours together. Prof. Sundaravalli is a very friendly and happy person.
          This review meeting was set in a different situation. I was not a guest, but a scholar with unfulfilled duties. After reviewing my progress in my research work, I was given an extension with a suggestion to give a seminar at an immediate date and plan for the submission of the thesis at an earlier date. 
        I completed my Seminar in March 2014. I started working on the rest of the chapters. This period was quite an experience. Those were the times when my immediate world shut down all doors on the face. But, the Department of English, knocked on my door and opened up several doors and windows and let the fresh air filled in.
       By now, the three authors alive, among the selected novelists, Grass, Marquez and Eco, appeared in their official websites and numerous other places online. They were talking, explaining and inspiring me in their own unique styles. Gopichand's audio talks and critics opinions were accessible online.
       I realized that I developed a kind if affinity with these five authors. Our relation was quite surrealistic. Words, ideas and people, they had so much to offer me. They challenged, puzzled and shared the secrets of their master craftsmanship with me. They allowed me to explore their hidden narrative schemes and narrative tools. 
        By now, these authors became an integral part of my life and family. During the saddest days, our family passed through, these authors stood at the end of the dark tunnel with their brightest smiles.  On the loneliest day of my life, they filled a crowd around me. On the weakest moments of the situation, they stood strong by me. On the gloomiest day, they showered happy moments.
           The first unexplainable pain shook me when I had to write an obituary on Marquez.  Marquez's childlike smile was gone forever, on 17 April 2014. Grass followed him exactly a year later 13 April 2015.  Their sudden demise brought out abundant published material like articles, reviews, speeches, quotes, and their works became open sources like never before. 
           This immense material raised new issues for my study. There was too much to study, too many new perspectives and ideas to understand. And, there was too much information to handle. I had to upgrade the chapters written during 2008 and 2010. I needed to extend my study period, again and again.
            In February 2016, I lost Umberto Eco and Mr. Anantha Ramayya in the same week as I lost my mother.  Six months later, while I was writing the concluding remarks of The Bungler, I got the news of my only brother's sudden cardiac arrest and demise. Incidentally, His name was as that of the protagonist of The Bungler, Sita Rama Rao.
   I had to repeat the pre-submission seminar in April 2016 as there was a time-lapse of the eligibility in the earlier seminar. I managed to submit my completed thesis on time, February 2017. And, a viva voce examination was conducted on 17-11-17.
             During the Viva Voce Examination, I had to address a question, " How is your Ph.D. useful to me or to the society? "        
        The answer lies in the basic question of how literature is useful to anyone, any society and any time.
        Now that this book, To Tell a Tale, is in your hands, I like to humbly hint you. This book may not have any path-breaking inventions or spectacular discoveries. But, while writing this book, I had my own Archimedes eureka moments, however small, insignificant and simple they were. I shared all those secret potions of life those master craftsmen hidden for us, in their complex texts. However wrong , however right my findings are, they will be the humble beginnings for your great expedition into the ocean of the literature that these masters created.
       There are two tender hearts who accompanied me in this long pursuit of Ph.D., who naturally made my engagement with the study, as their own part of life. They felt the pain and the pleasure, good and bad, fears and tears. They grew up with the ongoing process of my learning and unlearning and then, learning again. They are my two children, Bhavya and Aakash.
        My first literary companion at home, my little baby, by now, is a medical doctor. All through the Viva voce examination, she was silently sitting in the last row of the protocol filled seminar hall, with the same cheering baby -look gleaming on her face, more than two and a half decades ago, in the protocol filled Convocation Hall, overwhelmed with her own joy.     
    Immediately after the announcement the doctorate after the Viva-voce examination, she tweeted her younger brother, who was anxiously waiting for the news on the other part of the globe, wide awake through the late hours of the night, "Guess who is the new doctor at our home?" 
This book, To Tell a Tale, is my major work, after my last published major novel, Drushyaa drushyam, in 2003.A long journey on a rocky road. Those two little ones deserve more than my affection. I like to dedicate this book to my children, on the special day of my younger child's graduation on 16th December,2018, during this winter, who is graduating in Computers and Mathematics from the same Purdue University that trained the first man ever walked on the moon, Neil Armstrong. 
       Neil Armstrong left a message for me as well. However small the step is, it is a giant leap, of survival, existence, and prevalence. 
      If I had taken an extra bold step and stood up for my passion, I would have never given up mathematics in my life. If I stepped out one foot ahead, with a strong head and a brave heart, when I learned about the available opportunities for higher education, perhaps, I would have understood and explored the life better than what I did.
       While announcing the Award of Doctorate, Prof. Rajaraman rightly pointed out. "How many degrees one may acquire, no other degree changes your name, but the title awarded by Ph.D."  And, after three decades, my name was changed, once again, to my name in my High School records with an additional prefix of the title. 
         All this was not possible without the empathy and generous support of everyone at the Department of English, SV University and, immense patience and prudence of my supervisor, Prof. Madhuranthakam Narendra.
       My sincere thanks to Dr. C.L.L. Jaya Prada, who wrote my introduction while publishing one of my translated stories by her.      
        I like to sincerely thank Mr. Alapati Bapanna and his team at Kalajyothi for the aesthetically elegant print.
        Thanks to Dr. Bhavya for capturing the most precious moments of our life with a camera as well.
I may be wrong, or I may right, still I humbly tried my best to narrate my learning experience in this book, To Tell a Tale. And So, Why do I need a Ph.D.?
        It's my way of expression of the very basic human instinct, the natural inquisitiveness to learn.  
        And, this book, To Tell A Tale, is incomplete and inconclusive in its own way. It is a small part of my ongoing process of learning. All I need to say, to capture the essence of my long study,  is    
"I narrate, therefore, I am!"
*****
Please follow and like us: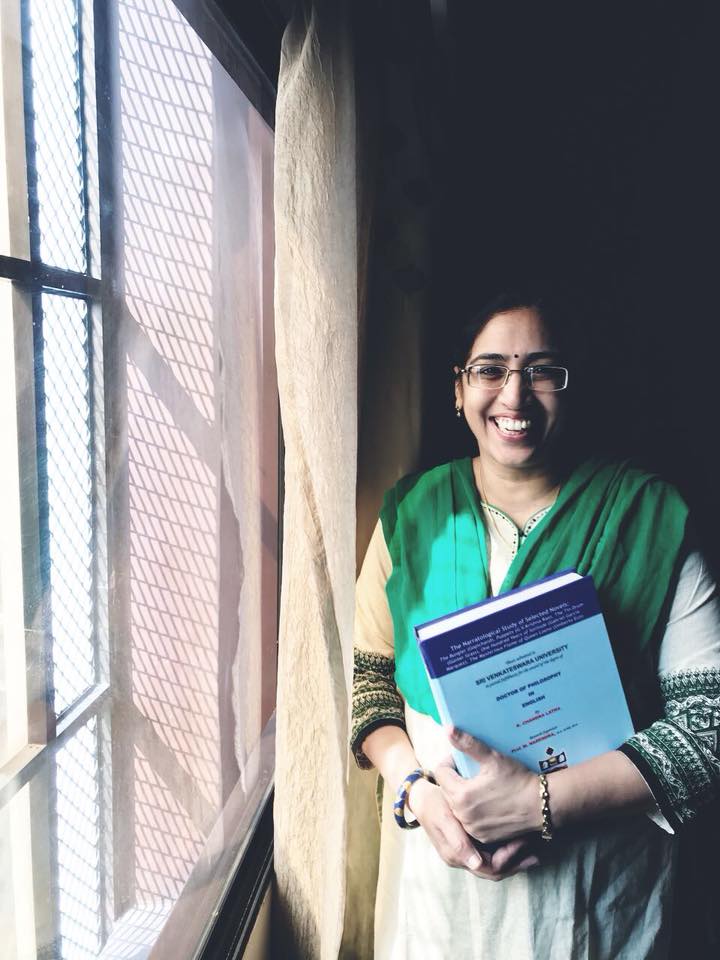 Chandra Latha, writer from Nellore won Telugu Association of North America award in 1997 for the novel "Regadi vittulu". Her other novels are Vardhani(1995) and Vallu veellu paarijaataalu (2011). Her short fiction includes nearly 80 stories compiled in nenu nanna navutha (1996),Idam shareeram (2003) and vivarnam(2007). Her non-fiction are (Fish can fly!) "vacche daretu(2010), itanala kadaku eeboothi boTlu(2010). And also published her blogposts in a book madata pejee(2010).