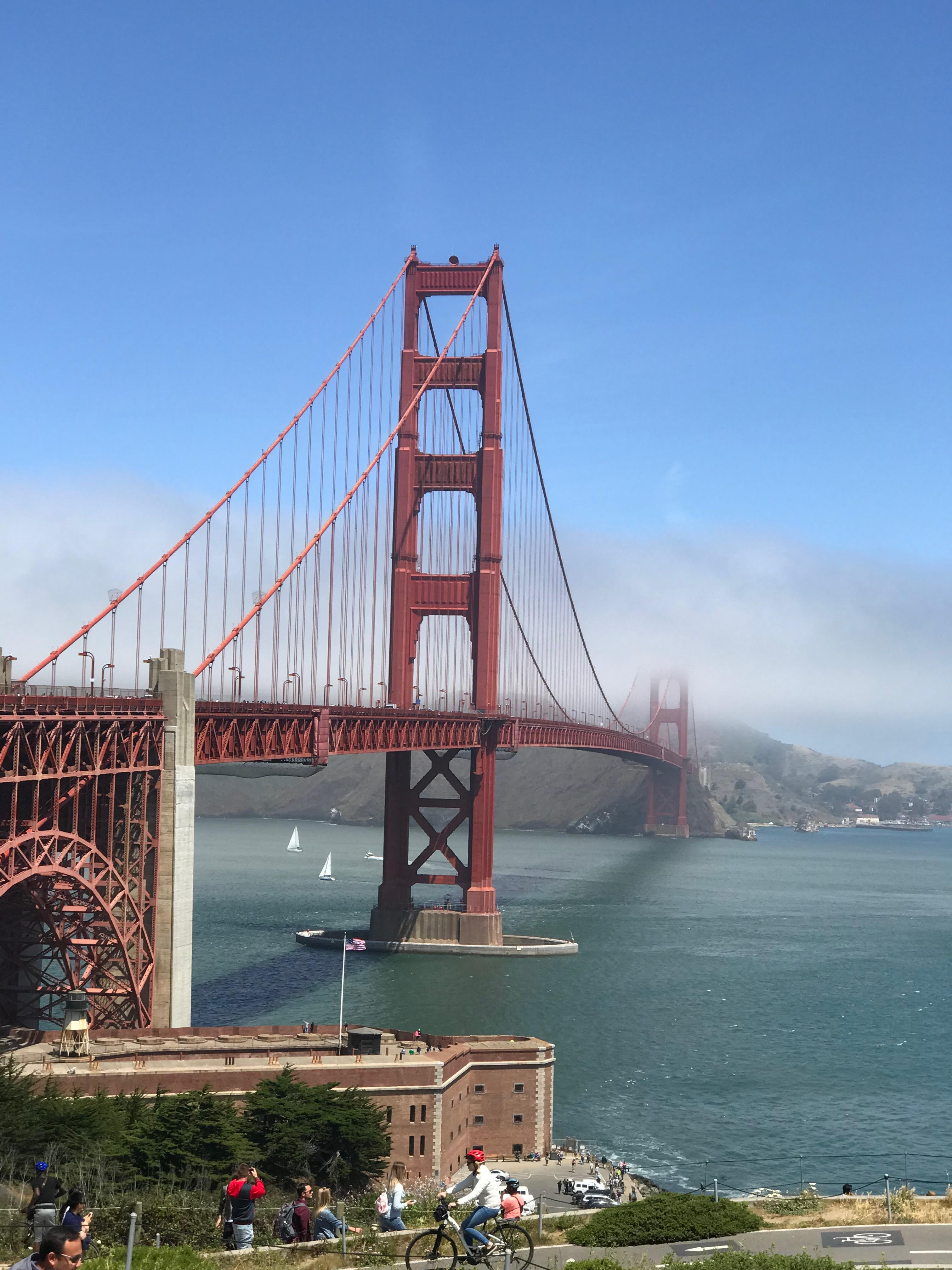 AMERICA THROUGH MY EYES-1 (Naa Kallatho America)
(TRAVELOGUES
)
Telugu Original: "Naa Kallatho America" (నా కళ్లతో అమెరికా) by Dr K.Geeta 
English Translation: Jagaddhathri
San Francisco 
We came to America at the beginning of 2008. Varu is in kindergarten. The place where we lived is called "Mountain View". It was named so because it is all surrounded by mountains. (I will tell you about this place sometime later). We are 40 miles far away from San Francisco. It was hardly a one hour drive from here. There are many trains and buses to travel. 
Journey 
When for the first time we traveled we got into a bus. Up to Paulo Alto bus stand, we went by car and left it in parking there, and took a bus from there to Millbrae, and from there we traveled in city buses. Varu is going on asking when will we get down the bus. For it took nearly one and half hour to reach Millbrae. The bus was stopping at every signal and bus stop. Every quarter mile there's a signal. It was good that we cooked something in the morning and packed some snacks. It was the same scene watching out from the bus.  There was no difference between the place we lived and others. ( I understood later that the total California town planning is the same all through). All houses and shopping complexes designed the same. All of them are one storey buildings. All the cities are connected. It was difficult to know where a city ended and another began. 
I looked for if there's any change in the color of the land. But there was no soil to be seen at all. All through there was warm sunshine. April is the spring here. There are all colorful flowers and green gardens outside. Everything is neat and clean. There were four more people with us on the bus. There was not a man seen walking on the road! No vehicle horn is used unless it's a must. There's silence in the bus and silence outside the bus too. For people who come from being in a lot of noise, this silence will take some time to sync with. 
By the time we got down in Millbrae, it was very cold with fog. We didn't know then that we got to check up the weather report before starting from home. San Francisco's weather is always unpredictable was the information Sathya got from his office. Thank God we had sweaters to wear. In half an hour we got a bus to go to the city. In that half an hour one should see what trouble we had with the small kid in that cold weather. There was no shelter to escape from cold. I and Varu were totally shivering. 
One more appreciable thing is that the ticket fare is the same for one-stop or the last stop. Like that with $1.75 ticket, we traveled for thirty miles. We did not want to get out from the warm bus which had a heater. Luckily by the time we got down near the Golden Gate Bridge, there was a little sunshine. 
Golden Gate Bridge 
Watching the Golden Gate Bridge from the rasing sunshine we forgot all the cold we faced till then.  It looked like a Gandharva bound in strings appearing from the shining rays of the sun amidst the fog. There stood before our eyes the man-made edifice in all its grace. 
"Amma ! what is this? The Golden Gate Bridge is in red color? Why is it not in gold color?" queried Varu. 
(In his memoirs, John C. Frémont, Captain, topographical Engineers of the U.S. Army circa (1846) wrote, "To this Gate, I gave the name of "Chrysopylae", or "Golden Gate"; for the same reasons that the harbor of Byzantium was called Chrysoceras or Golden Horn.)
"She is too young to understand all this even if I tell, so I said, "there you see isn't it shining like gold?"  She said "Oho" and continued "amma I am also shining"
It's a 4200 feet long bridge built totally with iron. It is built on the entrance where the sea protruded into the land, built connecting the two sides of the land. A great structure, standing, dazzling in brick red color. 
Hours just passed away while watching and strolling on the bridge. We had to return because it turned cloudy again by that time. 
Even now how many times we go there we get a feel anew always. 
Next year we went there after Komal came after giving his tenth class exams. 
This time we experimented with the train. From Mountain View Downtown to some distance we went in Caltrain and from there in BART train we went directly to San Francisco Downtown. The place is full of skyscrapers, and a lot of people moving around.  Really felt a relief seeing so many people as we don't see much in our place. 
Cable Car 
From there up to Fisherman's Warf, we took the historic cable car. Since it was the weekend rush, waiting for the cable car for two hours made the children lose their spirit. But it was fun for them watching every time it came and to turn back how it was brought on to a circle track and getting back on to the track again. It was also fun for them to travel in a box-like thing traveling on road. Here the cable of the car is not visible outside and it was set amidst the track. The driver stopped by some places and explains what all came in our way through. And it was more fun listening to the humorous comments of the driver of the car we traveled.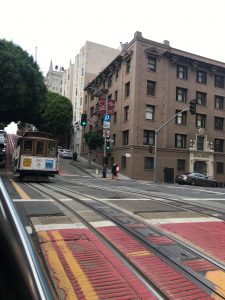 From Downtown, all the way is up and down by the side of the houses all looking alike. All the way is like the streets of Visakhapatnam where all the places have ups and downs. But here it is almost a mile we climb up straight and then come down the way. When the cable car is climbing steep we all feel thrilled whether it will lose its cable connection. Umpteen boats in the sea down there and far off there is the  Alcatraz island …
It was an unforgettable experience gliding down into the vista of the seas like on a slide. There the sea and the land stood as if challenging each other. 
Fisherman Warf & Piers 
On the seashore up to two to three miles, there are jetty like constructions. On each pier, there are some kinds of entertainment and restaurants. Old ships and a submarine was kept there for the viewers. Children were much attracted by this. While treading on to the end on the pier, there are down the sea, sea lions, and the seagulls flying like doves, and the shivering sea breeze takes us far from the outer world. There are on the shores, ship tours for another fifty miles on the sea to other cities and open bus tours to San Francisco city visit too. 
Roads are full of people, traffic held up on the roads, and a few beggars here and there it reminds us of India. There is an underlying discipline in these people. Nowhere they spit or throw garbage on the roads.  
One does not get tired of how long we may walk. I feel there's a difference even in the sunlight here. Though it is so cold outside, the sunshine is so bright. Eyes dazzle to that brightness. People wear sunglasses in all seasons here. The people like trapeze artists, music artists, and people who earn living by singing, all these entertain all the public. When I saw people standing in crowds I felt happy as I recollected the memory of our people thronging in our village fetes. 
It's compulsory to keep the car in a parking place for $7 per hour. Sometime later we visited that place had to pay $30 for parking. And it is a waste of time coming by car there on weekends. We will be stuck in horrible traffic. To park the car, and to get it back, and to cross a signal it took three to four hours. It is better to park the vehicle somewhere else and come here on buses. 
Coming to the food issue it was very difficult to get used to the foods here. Even now we go out we feel like how soon we go home and have our food. Clam chowder is a variety dish served in a bread bowl. In a bowl made of bread, they put the thick soup in which clams, potatoes, and cream. A type of sour bread is eaten hot with the plain chowder. 
There are umpteen varieties of meat dishes. Nothing suits your taste until you get used to eating without any spices and salt. There are so many leafy veggies they use in salads, which are not at all available in our place. The tiny carrots and marble-sized little tomatoes are so tasty. 
China Town & Downtown 
On the way back there is China Town on the streets extending long in some streets. Selling fish on the streets, street lunch homes, and the nasty stink of the vegetable stores one feels whether it is America or not. All Chinese art forms, culture, foods, and attires can be seen. Buses are very crowded. We could not get a seat all the way through our travel. Roaming about amongst them and bargaining the goods they sell, buying and eating fruits from Asian countries, reminded me of my childhood.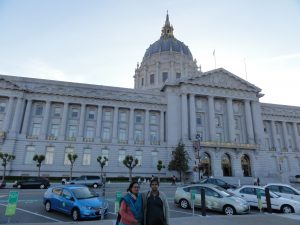 The Civic Center that looked like a huge fort and the 90 feet high.
Union Square that stands as the symbol of victory in the Spanish-American war is the viewer's delight. 
Cliff  House & Sutro Baths 
Places we can visit by car we do go often. A car cannot be driven without GPS here. No other way to show the route. Sometimes it turns funny. It takes us to a place where nothing is there and says 'you arrived at your destination'. It takes you to some other location if you want to go elsewhere.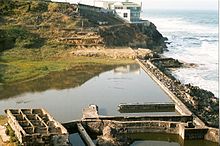 Once when we lost our way and going on another way suddenly appeared this place. On the seashore on an isolated island stands this Cliff house. It is said that it has been rebuilt five times. After its construction in 1893, it underwent fire accidents twice. And the SutroBaths looking like an old bath is built in 1897 and is an assortment of swimming pools. There were six, saltwater, and one freshwater bath here once. And also a museum and a theater of 8000 capacity used to be there. 
Now Cliff House is a hotel and a gift center complex. There is no proper way to go down this. But if you go walking on the ruined walls of the baths it takes you to a small cave from where the sound of the sea can be heard. We went inside and saw the roaring sea waves breaking on the rocks. It was a stunning experience. Darkness, rocks, waves and the cold water splashing on our faces, we ran out shouting and got back. 
Here we can't get down into this Pacific as we can in our Bay of Bengal. Feet will freeze within five minutes. We will run out unable to bear. It is like having water all around but can't drink, though there's sea all around we cannot touch the scaring cold wave tiger. Whichever season it is we go, and any more coasts we visit it is the same everywhere. From the height of the Cliff House, Golden Gate Bridge is seen far away, and the myriad hues of the golden waves delighted.
If we want to see the sky, land, and the sea all at one glance we must visit San Francisco. The city with small roads, and ups and downs hills, and with all the houses designed in a similar way, and is very diverse.  It will be a mistake if we think if only buildings exist in the cities of America. In the center of the cities, there are parks and zoo parks. Every colony must have a park and greenery around is a must there. 
*****
Please follow and like us: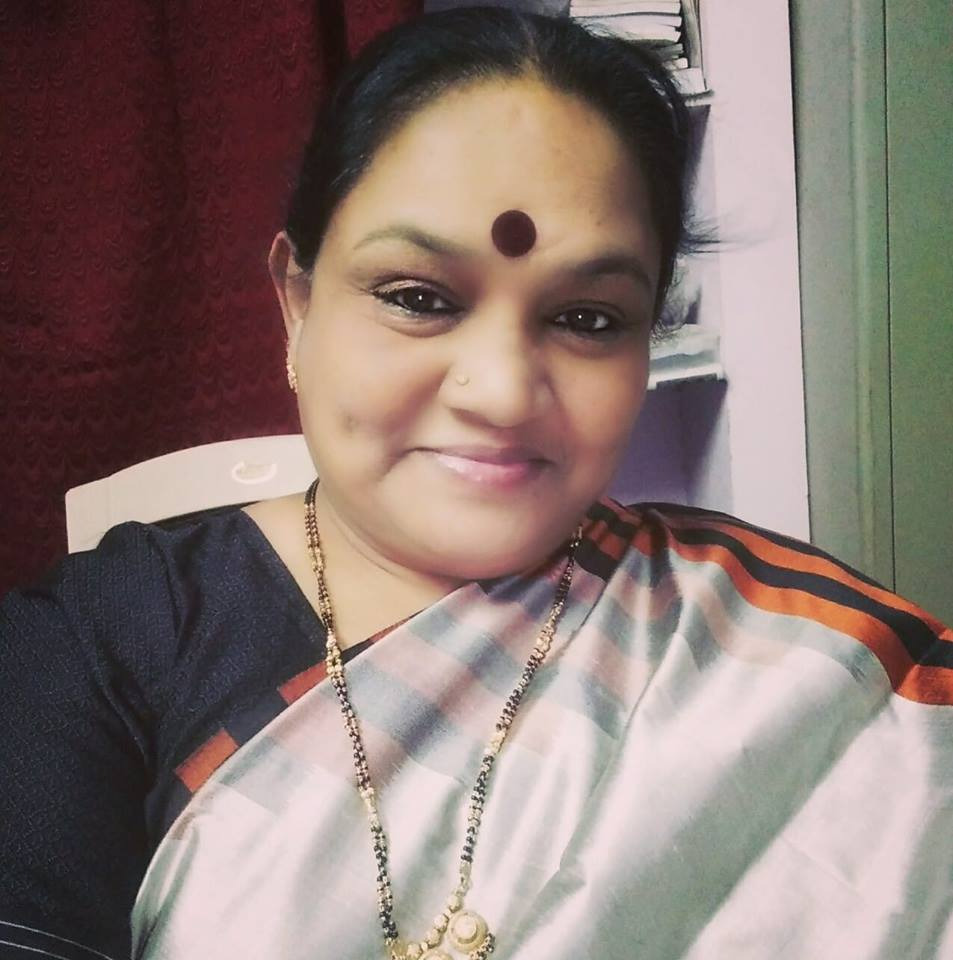 JAGADHATRI  is a bilingual writer in Telugu and English, a translator and a columnist and critic. She writes for The Hans India and Telugu monthly Visalaakshi , and other journals too. She is an MA English , First Ranker from Andhra University and has few more PGs. She has done her M.Ed, M.A  in Philosophy, M.A Sociology, M.Sc Psychology. She published her poetry anthology Sahacharanam for which she received two awards , Pathuri MAnikyamma Smaraka Puraskaram ( 2015, Nellore), and the prestigious AJOVIBHO KANDALAM FOUNDATION award (2017). Her features "Aksharaanganalu"(now continuing) in Visalalakshi won her great applause. Her previous feature "Bharateeyangla Rachayitrulu"(Indo Anglian Women Writers too brought her accolades. Good literary magazine Chinuku featured her variety of articles under the name "Jagamantha Kutumbam". She writes for many magazines and translates from English to Telugu and vice versa.