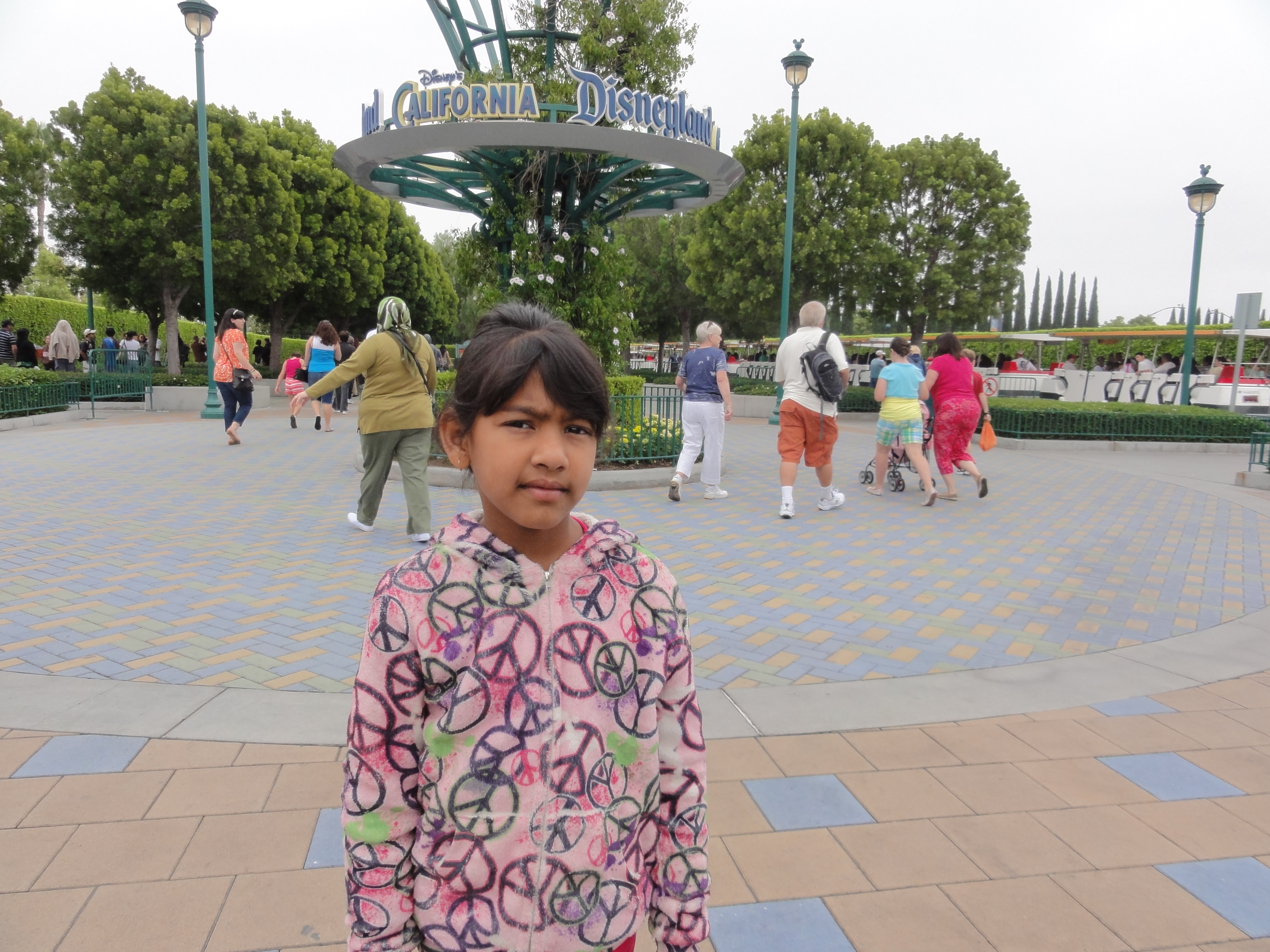 America Through my eyes -Los Angeles-2
Telugu original : K.Geeta 
English translation: Swathi Sripada
We woke up early morning and we recalled and had a talk about our two- day trip to universal studios, Hollywood, City tour and Griffith observatory. Free breakfast is offered by the hotel so we went to the office to see what it is? Some Muffins and bread slices. 
we sighed and completed our breakfast with apple juice and black coffee. 
But now before booking a room, we go for it if we have continental breakfast is offers, at that time everything was new for us. – that also is not a great offer – scrambled eggs, bacon and sausages are added up but not Idli and Dosa. (Indian breakfast). I always just tasted, to say I had breakfast. 
Disney land 
Another part of our Los Angeles tour, let me start from our second-time trips. 
This time, Disney land first we planned to go to. Disney Land is in the north of the city in Anaheim.  Whole-time will be wasted on the road if we travel during peak hours from Universal studios to Disney land. That's why it is better to stay close to the intended visiting place. We have taken a lodging within a distance of two-three signals from the main gate. 
But we can't understand where the car parking is. The original car parking was closed for some reason. But to drop in at the main gate no other parking at all. 
Considering the directions on the roads, we made two-three rounds there itself. But it is of no use. Then I got down at the main gate and asked at the security and asked they gave the directions on a paper. It was somewhere else. They will not have on Google or GPS. No information was available on the Disney Land official website also. We were troubled a lot. From that parking to the shuttles we have to walk some distance. Almost eighth-month completed but still started I started with a zeal. I have confidence that my mother is with me. when we get down the shuttle, I have no strength to walk at all. Outside we took an Electric convenience Vehicle on rent (ECV electric wheelchair). My problem is solved. But 50 dollars rent per that day for it. I called it a scooter. 
Disney land has two types of theme parks. One – entirely for kids Disney land park, the second one for older kids and elders Disney California Adventure park. 
More than 85 attractions and rides are in both the parks together. To watch everything may not be possible even in two days. Along with them shows, and parades too. Moreover, the rush of people on holiday. Long ques everywhere, to avoid the lines, fast pass services are available but once after taking that if we go to that place, till the program starts for others they will not issue. So, on a day, in this manner, we can not use fast pass services more than 3 or four times. If we plan two parks on a day, we couldn't understand what we watch. Either you have to watch it once and plan for another time or some only we should plan to see. 
What I did let me tell you. Without any discussions, Varu plagued us to visit the kid's park. We came for her only so we moved towards it. As we go on walking one after the other attractions continued. Already due to parking farce we came an hour late, by the time we went on a giant wheel and a train that goes through a cave standing in the lines it already turned eleven. I can't go to any of these with them and I had the riding scooter so I engaged myself in bringing fast passes for them. When we go to the machine and show the ticket the next pass will come. But we have to take them to the place of that intended attraction only. So, I used to go fast on my scooter to bring the passes for them. Becoming so busy, nobody food at the proper time. I purchased and brought food for them. After a half-day, without going through even 50% of the first park we have to go to the second. There also, we have to stand in lines. But in between going up and down to the first park for shows and again for rides to the second park walking and walking they all are too tired. They have to walk long distances, by the evening everyone is exhausted. By the time of dusk, for "world of color fountains" laser- show in the second park all short cut roots are closed. 
Then people from one corner to reach this corner no other way but to come in a roundabout way through the park. To see that program, two hours before we have to buy the tickets and sit there. Though it was an open-air show, because of people gathering around nothing is visible. I can't stand for a long time so I watched whatever I can. If I had not taken that scooter for the entire day, I would have been tired within an hour. 
The best and the magnificent one is the fireworks at around nine in the night. They are much bigger than the fireworks taking place on July fourth – outside, and the number of varieties. It was June and mostly warm day so; we could roam around till 9.30 in the night. But in Los Angeles, compared to this place it is a bit warmer. 
Disney land is a reflection of a dream world. The fulfillment of Walt Disney's dreams. It started in 1955 and it had the power to attract a million people within the first seven months. Though Walt Disney expired in 1966, his dreams are still alive. This is a great thing.  Not just beginning anything but continuation if it is a difficult task. They are fortunate, so the later work continued so well and even now Disney Land is one of the great parks to consider. As soon as we step into the park, through the main street the dream fort appears at a distance. Everywhere in the park, everything creates in children that they are original and arranged in such a beautiful and great manner. Girls in the form of Princesses walk here and there in the park talk to young children, listening to them cooperate to take photos. Those girls with delicate cheeks appear so beautiful. I have no idea of the names of characters. But Varu used to say- "see, Jasmine, Snow White, Ariel, Cinderella, Rapunzel, Arora "naming the princesses used to feel happy. 
If we keep rides and attraction in between aside, we can pay tribute to the artistic sense of the artists behind the settings. It is not an exaggeration that no child can abstain following the toon characters like Micky Mouse, Sponge Bob, Donald duck, Alice in wonderland. Every princess story ends up with her wedding with a prince. They are not the dreams befitting to this time. So, the organizers very cleverly made, from Star Wars to toy story, finding Nemo, etc. themes of movies, as a part of the display. We never know how the time passes at such places. Adults may be tired easily but kids never feel to leave that place. Sometimes we feel such a big park and so many attractions do we need them all? 
In the second park, not only very big roller coasters, Giant wheels and such things so money thrill rides are there that we cannot notice. Visitors, standing in long ques run behind them. But in front of the lines wait time boards will be there, we can plan accordingly. 
Though we spend more than a hundred dollars on tickets we have to spend again heavily on food also. But people, everywhere people. Here, normally we never see so many people everywhere. It seemed as if some people come there only to see the rush of people there. If anyone arrives from India from his side or my side Los Angeles tour is a must. Luckily my mother was with me on that trip and we both used to talk a lot. Young kids used to eat easily not only the corn cobs but also big turkey feet selling with them as if they are eating ice cream. 
But for the people rushing, no one will be there like me watching others so carefully. Once we were put on a giant wheel in my childhood. We sat each one in a separate box. I climbed it scared inside. Exactly it went up and stopped there due to some problems. Then one should see my yelling. Till I was brought down I went on creating a nuisance. Even now I dream of hanging my legs in the air as if I am falling from a baseless box. How these people climb into that roller coaster that rotates in a Topsy-turvy manner so daringly- I thought. Komal and Varu never fear anything. Ready for everything. No need to say anything about Satya. I am carrying so, this time luckily, I can escape it. 
It was a good experience for all. Next time we have to see everything in detail- they all talked. 
I have not seen my mother participating so actively in all things nowadays. Laughing with my children when she is attending everything, I felt satisfied and happy. My father dreamt of visiting America.  But before he can fulfill them, he passed away. From the day I came here, I used to feel for that. "I am her, but I could not fulfill his dream" but as long as my mother stayed with me everywhere 
I have the illusion that he too walked with us and watched every place. America is a place of him. A free world without any bondages. 
By the time we returned to the lodging, it was ten-thirty.  All are tired and slept off where they are.  
Return Journey 
The most pleasant part of the Los Angeles journey is the return journey on Highway 1. The first time we traveled on that way to see Danish Town Solvang. After that every time we prefer to return on that route only. We have to travel 70 miles more on this route but we never feel so. Because at every turning greeting us warmly, a great ocean follows. through San Fernando Valley we entered the Highway 1. 
Ventura 
Hardly we traveled 60 miles a vast magnificent scene in front of us materialized. At eleven o clock with a cloud covered sight as if rushing through the car glasses, resounding scary roar of waves. On the shore a beautiful sandscape. As if the sky breaks all of a sudden, the running clouds. Ventura is the name of that village. "I obstinately compelled to stop a while let it be rain or floods, we took an exit. If we go there into RV park, we have to take 10 $ tickets, from there only a path leads to the seashore. By the time we stopped the rain started as if needles are sieved. Then we stopped and canceled our plan to get down the hill and adjusted with photos from there. Though the car took a turn Satya noticed me watching hopefully, he said, "Next time we will go surely". If we have our good a hot summer here – I thought. Haven't I hugged the see at once! , haven't I looked at the sky lying down on the sand? I turned back and looked at my mother. She also, looking with the same enrapture said, "the clouds, the sea and the sky how all at a time seems to be dancing". Varu said "for me, the clouds appear as black sheep" the third-generation poetess. We all bid farewell to Ventura laughing. 
Santa Barbara 
From San Fernando Valley Santa Barbara is at a distance of 90 miles approximately. The first time, as if going for a lunch break went to see the restaurants on the seashore. 
From then without breaking our journey for a while on that beach road of the village, we never come back. We get self-driving family rickshaws and cycles on rent on the footpath adjacent to the road from the harbor side west beach to a mile distance east beach. When children compelled us to get into it we paid 35 $ for an hour and I and my mother sat at the back, front seaters should run it. First ten minutes they biked it actively. After that, they lost the charm and appeared morose. We laughed. 
Varu started running to go into the water to play. Let it be extreme cold she wants to play in the water on a beach. For lunch, we went to a seafood restaurant on a bridge-type construction extended on the sea. When kids started eating bread eagerly my mother said," if you wait till they are hungry they eat without bothering you". 
It is true. Unless we are traveling, they never have the feel of eating food. By the time we reached Santa Barbara luckily good sunlight came. But not the required amount of sunlight to go to the beach and dip our feet in the water. Watching satisfactorily at the foam of the waves and their brightness the seashore charming us we did our lunch. Seagull birds perching one by one and getting up appeared as if blowing wind to the waves. 
Electric shuttle buses run from there to downtown with a ticket of 25 cents. That day an art exhibition was going on by the car parking area just opposite to visitor center. By the side of the road appeared of a colorful rainbow as a feast to eyes. My kids love such exhibitions. Everyone likes to draw. It was very difficult to move them from there. If we have to reach home by night we have to start from there. Still, we have to go 300 miles. Santa Barbara is a seashore where we can stay a full day while returning from Los Angeles. 
Solvang 
At 40 miles from there is Solvang. Though we have to travel on another highway inside from Highway 1 half an hour, it is worth visiting. It is a beautiful Danish town. Attractive colors, similar constructions are their specialty. Good architecture feasts our eyes there.  In the constructions. Here many exclusive things representing Danish culture are seen. Some appear in their native dress code only. Danish chocolates, ice creams, and everything reveals their selective culture. Still, we can watch an old-fashioned windmill there. 
Pismo beach 
By the time we get back on to highway 101, it seems it rained heavily and stopped. In turning of the roads, the evening glistens of the sky are appearing and vanishing. Away from the road at a distance, the sea cajoles and moves on. From Solvang at a distance of 55 miles is the Pismo beach. From there Highway 101 continues on the land. On the beach, it continues as highway 1. We have to travel on 101. But, at least spend half an hour on the beach we turned the car into the village and reached the beach road. A bridge constructed into the sea for a length, noon orange sky behind it, on the shore, waves foam as saffron decoration on the wet sand. Seagull birds diving down from a height somersaulting and laughing and running children, in the cold atmosphere also people roaming in meager clothes. If we get down the bridge it will be too late, so we just spent half an hour and started back. Somehow, I felt homesick to leave the bridal while waterfall in Yosemite. though I turned my eyes away from the splendid scene I could not divert my mind.
*****
Please follow and like us: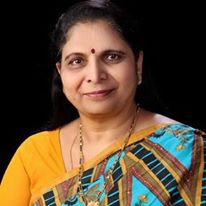 A native of Nizamabad, writes poetry in English and Telugu, Novels , stories In Telugu. Translates from Telugu to English and English to Telugu.
Published 5 poetry volumes in Telugu, 5 story anthologies, 5 novels and 32 translations. Loves and lives in poetry.