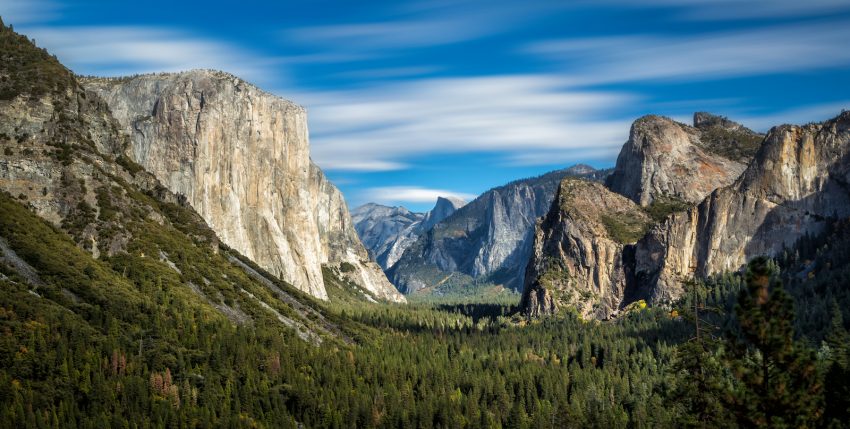 YOSEMITE 
Telugu original : K.Geeta "Yosemite" 
English translation: Jagaddhatri 
In the end of May luckily we had a long holiday, and when asked children, where shall we go, in one voice they said Yosemite.
"How far is Yosemite National Park & Valley from Mountain View?" before I did complete "wait I will consult my Google babay (uncle) and tell you" said Satya. "Do you have an uncle here daddy" queried Varu immediately.
"Yeah!  here he comes. It is more than 200 miles he says" saying so he showed the way on the maps/google.com. From then on, wherever we want to go Varu says "Amma why don't we ask daddy's babay". Last time when Venugopal sir visited our place he remarked "no car in America is like having no legs" that's a fact. We cannot move anywhere without a car. There is no bus convenience to all the places. And auto …no way. If we take a taxi, pockets will be empty in one day. 
Journey
We started off early morning by 8. Until we passed on two or three freeways from our home, Satya enjoyed listening Telugu songs. Kids brought portable DVD player and kept watching movies. Until I said 'there you see something special' each of them are in their own world and didn't look out. There is not much thrill of a drive on these roads as they all look same. Passing out from the cities and entering into the hilly plane I feel relaxed. For the first time chanced to see the crop growing fields. Hundreds of acre lands are cultivated by a single company. Though a bit expensive, they sell the fresh veggies and fruits in such places. Kids ate a lot of sweet oranges. By 12 noon we reached James Town. 
In 1849 in this place around California, it was said that there was gold available. The very first gold mine of the nation is first found in this Woods Crossing. People came here in this pursuit even risking their lives at that time. The people who came here on the Gold Rush then are called 'Party signors'. 
Even now if 40 dollars paid for a person, one can search for gold in the places they allot. We didn't go for that, but visited "Rail Town Museum". The 18th century antique coal engines along with a bogie are kept in the exhibition. Everything of the historical Sierra railways, including the rail track is in display.
Varu was all ears to the guide for one hour.  "Ammaa! Though we have much more greater things than these in India they don't exhibit like this. See how these people are making money on this" observed Komal. Looking at those tracks and bogies I was reminded of the Rajahmundry railway quarters and the places around. The only difference is there will be people around and here we don't find any.
"So this is Rajahmundry in America" we laughed. Sitting there on the park benches, amid the fig trees that stood as observing us we had the pulihora(Tamarind Rice), and curd rice fondly, as if we were waiting train passengers.  By then the four or five tourists that came with us and the staff all disappeared and we were only left. Since there was no train that day to take around the place, children began playing running round the trees. 
Satya started taking a stroll, silently on the rail track. As I was packing, I felt  as if I am seeing my brother and sister in my kids and my mom in me and my dad in Satya. After all this is life isn't it!  From there it is 8 miles to our stay place 'Sonora'. Those were all villages, but no difference between town planning and rural, everything looked similar. Even the clothes they wore and language they spoke too did not vary.  There are big fields and big houses adjacent to them. On the way we stopped by a farm and bought water melons, oranges and corn. 
American corn with soft kernels is good to boil and eat. There's a Jacuzzi (small swimming pool) adjoining to the big pool in the hotel we stayed. Checking into the hotel, children rushed to the swimming pool. All of us relaxed in the warm water. Sonora is a beautiful hilly place 1000 meters above the sea level
From there it was totally 90 miles of ghat road journey. Children kept shouting while we crossed from the tunnels. I remembered all our childhood pranks (how we shouted and the tunnels echoed), while we crossed the tunnels in train to Araku. As usual our GPS mislead us again to a wrong route. We had to travel 20 miles in addition to get back on to the right track.  In a way this helped us, as we could see the animal sheds inside the hills and the small houses close to them. Here and there a small house was seen. I wondered how people live in such lonely places. Here in this place we found only cows with fur and no buffaloes at all. All the dairy products are from cows. One or two goat or sheep like things are seen. Yellow dry grass hills spread all over. Not a person on foot seen at all.
Twenty miles before we entered Yosemite, we paid the entrance fee of 20$ and we took the maps and the guiding info. There were hills on one side and lovely cool water streams on the other side of the road. A big whirling stream flowing down from somewhere was shaping the round rocks more round with its force. Stopping our car, we got into the waters. Two or three more cars stopped by along with us. The water was ice cold and we could hardly stand in there for more than a minute. 
From December to March all over that place is covered with snow. Since it was sunny that week the snow melted. 'Bridal Veil" waterfalls stands the welcoming guest before we enter the valley. The name is so apt.  We had to wait in the car for an hour and a half, stuck in the traffic. Half an hour more lost finding a parking place. From there we had to walk forward amidst the trees. But all the pain of waiting was gone when 'Bridal veil' appeared all in its glorious beauty. 
Stretching out both my hands I in bliss with eyes closed, enjoying that beautiful gushing waterfall from 620 feet. I felt that it must be the same when Ganga flowed down from the heaven. Luckily that was a hot day. Though drenched in that cold water, clothes dried up within half an hour. The waterfall got its name Bridal Veil because the sprinkling water drops swaying looked like a swaying bride's veil. We could not stay there long because of the crowd. Turning back and looking many times I clasped the scenic beauty to my heart.
The name Yosemite came from the native tribal lingo Uzumuti. This means Yosemite, the snuff color bear which is often seen here. 
There was an office, also stores and some cottages in the Curry village. The cottages are to be booked six months in advance. From there we took tickets for the Glacier open bus tour for site seeing all through the valley. 
The parking problem again and the time of the tour is nearing.
Didn't know what to do? I thought I would stay back. But luckily the tour was postponed for another two hours because of some bus failure. The tour was only up to the tunnel point and not to the glacier point.  
Rounding around the place few times, managed to find a parking place half a mile near by the bus stand. After seeing it really felt, if I had missed the tour, the total trip would have been a waste. Traveling around in an open top car watching the vales I felt as if all of us are alive pictures of an artist entering on to his canvas. Paying no heed to the guide's words heart traversed like a bird into the air and perched on the hill top. How inferior is man before nature! one feels when knowing the history of the mountains. 
The Tunnel view is the most beautiful part of the tour. The scenes from the entrance of the Wawon Tunnel, keep changing every season. The scenic beauty unfolds in myriad forms every season within a year. 
From there the mountains of the Yosemite spread half moon shaped carpet, flickering from side to side, honorably humbled the spectacular view of the waterfalls.
Seven places can be seen in one stretch from here. Mountains El Captain, Clouds Rest, Half Dome, Sentinel Rock, Cathedral Rocks, and Bridal Veil and Horsetail Falls waterfalls.
The Granite Mountains, in fact, includes the El Capitan which is single stone wall stacked. 
This stands a challenge to the mountain trekkers. Many people compete to climb it. It was fun watching these trekkers looking like ants from the top.
Back from the tour, evening, we walked down to watch the Yosemite Lower falls. Getting little wet and unable to put with cold Varu started crying.
Yosemite Upper Falls curves into and appears as the lower falls too. They are the highest waterfalls in North America 2425 feet in height. To reach the Upper falls we need to walk another two miles amidst the bushes. As it was getting dark and Varu was not in a good mood, we had to return. 
We could hardly see one percent of the nature's beauty in a day long tour. More than three thousand lakes and foot paths of 800 miles, tell us how wide the valley is. 
Watching huge mountains, waterfalls all at a stretch for the first time, the gigantic beauty of Yosemite stole our hearts. None will deny this feel I suppose. All the scenes of beauty are appearing sequentially on my mind canvas and I still feel the journey is still on. That's Yosemite! 
Return journey – caves 
By the time we checked out of Sonora, kids said "Amma anyway tomorrow is a holiday, what will we do going back in four hours, let's go on seeing something else on the way home" 
By then they readily collected the info from the hotel counter. That was about the caves near the north of Sonora. They are 20 miles nearby and can be reached within an hour or so.  
Actually we are to travel southwards. As Satya is also for the kids' wish I turned the car towards north.  This was totally different from the way to Yosemite. This was a single road and hills uneven, and at times a vehicle or so was seen. In half an hour we reached Moaning Caverns. 
As flowing waters along with the wind gave out a moaning sound, these caves got this name. The place was so colorful with a beautiful gift shop, and tickets for site seeing, guides and lot more people. My spirits rose and all my fear of this being a lonely place to visit with kids gone!  "By the way where are the caves mummy!" asked Komal. "Yeah that's what I am trying to find out. I think there's something here to see". I replied.
The red dust is flying high along with the breeze. There's a Zip line set to the small hills at a half a mile distance. 
There's also a soil sieving going on to find valuable stones. But we got to pay 5 dollars and buy a small bag of soil and then we can test our fortune by sifting separate the soil and the small stones from the waters. 
To our luck we may get a valuable stone or a bit of gold. Varu was happy playing with the waters in the warm sunshine. She was insisting us to take there to the sifting place.  
Satya and Komal already ran into the queue of the Zip Line. Instead of gliding along the rope from the belt into the air, I felt relaxing in the sun along with Varu is better. 
By the way didn't feel like wasting 5 dollars for that soil. Took out a plastic cover from our bag and filled it with soil I took from afar and few pebbles I gave it to Varu. She is seriously into sieving for an hour or so. When everyone there said nothing found, Varu was shouting "Mummy got it" once in five minutes. 
The place that looked a gift shop is the entrance. That's a big abyss formed as if a quake hit inside the room. Spiral staircase led down.  Heart thumped at once. The depth of that abyss is so intense that the Statue of Liberty would fit in it.
I felt a bit giddy, getting down165 feet and 234 steps. From there again they are taking on an "Adventure tour" on one more ticket, to the mines like places which cannot be reached by walk. We laughed off thinking that instead of water and breeze we will start moaning if we go there. My legs started hurting and I could not move. We could not stop on any line because of the crowd on every line. 
It took more than half an hour for me to get familiarized and have a look around from that place. It was a terrifying great feel going for the first time into the interior grounds. I had double feelings at the same time, one to get out of it soon and at the same time a thrill of having unfolding a great mystery.  Ugh! Got to climb up all the stairs again can't help! 
Not a minute to relax, we started off to the second caves. It was again travel on the empty road. We reached Mercer Caverns in half an hour. This time our deal was that I would stay back in the car and they will go.
There is no crowd at all here. There are only three people along with the guide, for it must be the last trip for that day. Satya bought the tickets from the gift shop. I settled on a small bench. The guide came with some bands and asked who all are the visitors, Satya showed me first. Even before I could say a word, all of them ran behind the guide. So they bought a ticket for me too. In fact the guide is three time plump than me. 
Watching her speed getting down the steps, I too followed though tired. These are different from the other caves we saw. These are not that wide. 
We did not know how many steps we are climbing or getting down. By the way all the caves are formed of lime stone. They are looking awesome in various shapes and are a visual delight. Legs did not hurt much. I would have really missed such lovely caves if I stayed back.  
These caves are formed nearly three million years ago. In 1885 Walter j Mercer found them and developed it as a tourist place. Before that, it was the grave yard for the local tribal people to dump the dead bodies. 
Some caves reminded me of our Borra Caves , hanging shapes and with dripping water. Sometimes we had to bend and walk. I got a bump hitting a stone unnoticed. This is an awesome place where there are umpteen stony flowerlike formations as they are on the sea bed.  
For an hour or so we roamed about in awe. So lost in the beauty, did not even feel we were 161 feet down. Surprisingly the exit was from the other side.
In Yosemite we see the high mountain peaks, and the waterfalls from heights.  Here we go down the earth, touch the rock beds explore the hidden waters, enjoy the splendid hanging art, and come out overwhelmed. Two different awesome experiences! 
In this trip I realized how diverse nature is! On our way back home, I found sunset looking much beautiful than every day. What a wonderful earth are we born in!  November and December we find yellow and red trees all around as the trees change in different colors before fall. From our sit -out all these colors together appear like a palette. Yosemite trip filled our hearts with myriad hues and brought brightness anew in life.
*****
Please follow and like us: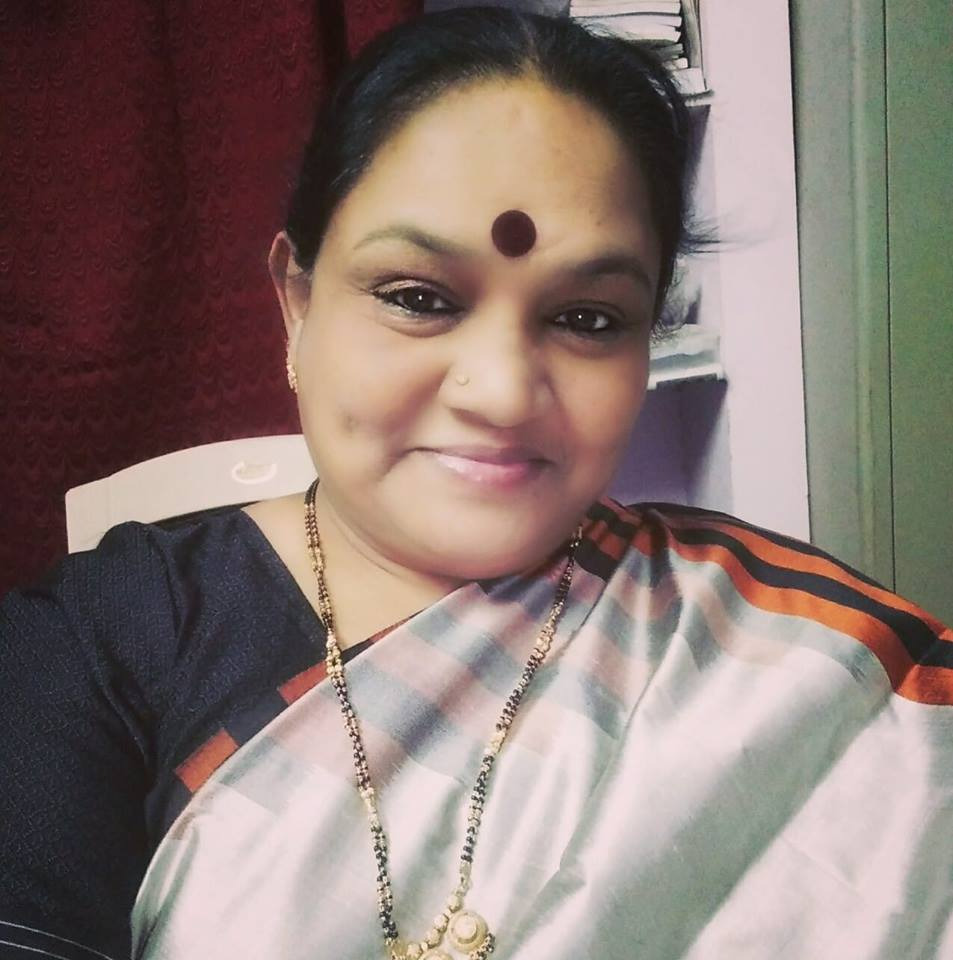 JAGADHATRI  is a bilingual writer in Telugu and English, a translator and a columnist and critic. She writes for The Hans India and Telugu monthly Visalaakshi , and other journals too. She is an MA English , First Ranker from Andhra University and has few more PGs. She has done her M.Ed, M.A  in Philosophy, M.A Sociology, M.Sc Psychology. She published her poetry anthology Sahacharanam for which she received two awards , Pathuri MAnikyamma Smaraka Puraskaram ( 2015, Nellore), and the prestigious AJOVIBHO KANDALAM FOUNDATION award (2017). Her features "Aksharaanganalu"(now continuing) in Visalalakshi won her great applause. Her previous feature "Bharateeyangla Rachayitrulu"(Indo Anglian Women Writers too brought her accolades. Good literary magazine Chinuku featured her variety of articles under the name "Jagamantha Kutumbam". She writes for many magazines and translates from English to Telugu and vice versa.