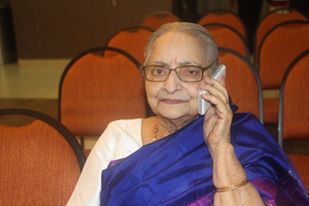 There is a way…………
Sivaraju Subbalakshmi 
Translation: Swatee Sripada 
Doctor Madhava Rao, though came to that village just recently became very popular. He treated the poor compassionately. Kamala, the lady doctor, working with him in the same hospital thought in the beginning all his generosity was pretense to earn a good name, later she started to respect him. 
To inform her absence in the afternoon to him, she started to his room. Meanwhile he came out, saw her and waited for her in the corridor. 
"Doctor, shall I take an off in the afternoon. I want to visit my mother. No serious cases now" she said. 
He laughed as if accepting her request. Both were walking together. 
A young boy was bringing an old man inside holding his hand and helping him to cross the gate. The boy could not say what he wanted to, lifting up the torn shirt on his hand with the other and holding it stood there scared. The old man too was bleeding badly. The flesh on the knee was hanging. He was too lean and weak as if the whole blood was drained. 
"What's the matter?" doctor Madhava Rao asked the boy.
"Dog bite sir" 'sir' came a bit later. 
"Who would remain here if you come at this time? We are going home. Moreover, you should take injections for it, Painful too. Take home and ask your grandma to put a bandage with bitter gourd leaves paste. " Doctor Kamala said. Madhava Rao was laughing. 
"If we do such treatment, the rooms of the hospital can be let on rent to some other organization." Saying this he took the old man in, bandaged his wound, gave an injection and asked him to report the next day. 
"Doctor, you treat people at whatever time they come. That's why they bother you without any time sense… If you have that sympathy on fellow beings, how nice it would have been" Kamala snapped him, but no harshness was in it. 
"How come it be, if we show our irritation? According to our time would a dog plan to bite the old and poor man to test whether we treat him or not? You would have gone for teaching in a school instead of doing medicine" Madhava Rao said laughing. 
"Leave me aside, if you had been a psychology lecturer, you would have shown pity on everything and would have hurt others with your good will. I have to see your wife and ask her to change you a bit bad" kamala said laughing. 
"It's a mistake; instead of asking her to change me you may change yourself after looking her "he too laughed loudly. Kamala felt some affection in that laugh. 
"It's too late I have to go and cook" Kamala said. 
"Why don't you come to my home today?" he said
She could not deny. 
Both went to his home. He introduced Kamala to Shakuntala. 
"Today she is our guest for lunch" he said. Shakuntala smiled cordially.  
"Shall I serve the food?" 
"Have you forgotten me? Kamala greeted her with a question and a smile. Shakuntala could not recollect immediately and puzzled a bit. 
"I am Chitti, we were neighbors did you remember?" 
"You! Changed a lot" Shakuntala said astonished. 
For a longtime, both exchanged their childhood memories. Amid Kamala looked at the Doctor and said.  "Shakuntala was very beautiful in her youth. No one can match her" 
"I am duped by her beauty" Madhava Rao complained laughing strangely. 
"You mean she isn't now?" said Kamala. She watched all Shakuntala's self- made handicrafts and the interior decoration very carefully.
She showed the photo of their baby to Kamala, she said, "She resembles you a lot and the frock design is too good". 
"Girls went to school. Why don't you wait for their coming?" asked Shakuntala. 
"I'll come next time" Kamala left.
 After a few days, one day when Kamala visited them, Doctor Madhava Rao was at home. He dragged a chair and offered it to her. "Please have your seat" 
He asked Shakuntala to fetch coffee.  He started talking about marriages. 
"Recently people feel that if both are in the same profession, it will be better. What do you think?" he asked. Meanwhile Shakuntala brought coffee. 
Listening the last words though she felt a sharp agony, but never expressed it in gesture. She could not decide whether she can sit there or not, hanged a while holding a chair and then went in. conversation paused. Kamala went away. 
On another day, both Kamala and Madhava Rao turning wet in rain walked into his home. It was very late. When Shakuntala opened the door, she felt surprised to see them both that way. 
During the Dinner, Madhava Rao said that they walked into the hills, and lost the way and it started raining. But, somehow lingering there round and round they managed to reach the home. Kamala was a bit worried. Shakuntala went on serving as if she did not notice anything. The rain turned heavy. The sky became terrible with lightning and thunder. 
"I'll go home" Kamala said getting up.
"Now? In this weather? Stay back and can go in the morning" he said. she stayed there.
Early morning Kamala was ready to go. 
"without a cup of coffee?" he said. 
He called 'Baby" sent her to fetch coffee. His younger daughter Sushi came running slipped and fell down on the center table. Kamala's spectacles and pen fell down. Madhava Rao slapped Sushi and was gathering glass pieces on a paper. The medical assistant came and informed that "the pulse of the patient admitted the night before is receding" .
Doctor showed his irritation paced up and down, changed his dress and moved out. He asked Kamala too to follow him. 
"Let me tell her" she got up.
"Not now, come fast" he said and walked out. 
When she heard the cry of the child she came into the room. She saw through the window both of them going out. Their servant Mallayya showed them laughing to Lakshmi who tried to say something, but paused and started sweeping casting her head down, when she saw Shakuntala through the window. 
The house is just behind the hospital. 
Neem and Tamarind trees are on either side of the way. As if giving company to the groaning of the patients the aerial roots of banyan tree moved in the wind. Some hubbub at the hospital is heard. 
Lakshmi ran there. Mallayya was dusting the chairs. When he looked at Shakuntala, squeezing the dusting cloth he mumbled
 "People talk nonsense about her and our sir" he tried to continue.
"Do your work" Shakuntala snapped him. 
She thought of asking Madhavarao, but when another doctor accompanied him, she remained silent. 
Another day, by the Time Kamala arrived she dressed the children neatly and she too was wearing a silk sari.  Kamala turned pale and stared at her a second. "This sari is too good on you" she said.
"It looks good on any one" Shakuntala instantly replied. 
"They say women never praise each other, but your attitude is somewhat different" said Madhava Rao not even addressing anyone. 
"If both are beautiful, that problem may arise, I have no such problem" Kamala retorted. 
"More than beauty attraction is important, I feel. They are in you" Madhava Rao said. His words fueled Shakuntala's doubts. 
Intending Kamala, Madhava Rao said, "We planned to go to a movie, why don't you join" 
The youngest daughter fell down from the swing and started crying. Shakuntala dropped the plan of the movie. Madhava Rao walked out saying that he would go to club. Kamala too joined him. 
After a while the medical assistant came and informed her "Your brother called it seems amma, your mother is sick and asked you to start immediately. By the time sir arrives, he asked you to be ready to go" 
As soon as she heard about her mother's sickness Shakuntala trembled. Madhava Rao suggested her to travel in car. Baby sat in the front and all others with the servant maid adjusted at the back. By the time they reached it was mid night. 
The home was silent. The kids were already sleeping in the car. He asked her to get down and carried the child himself. The suppressed sorrow tossed up in her and she started crying. Her brother opened the door and said in a low voice.  "Just now she went to sleep. Now doctors confirmed that she will recover." 
Shakuntala wiped her tears and went in. 
"Morning she was complaining a chest pain, she fell down. Doctor said hopeless and called another doctor. When he too expressed the same, I called you. After ten in the night the pulse came to normal. Now no need to worry, they said." He said to Madhava Rao.
They had a hope that the patient will recover. By the next day evening Madhava Rao, Shakuntala and their kids reached their home. 
Mallayya handed over him two envelops saying "Doctor amma asked me to tell you and amma that she went to her village by four o clock train" Madhava Rao was surprised. 
"How can she leave without my arrival? Who would see the patients? women do everything as they want" he groused. 
First Shakuntala thought not to read the letter. But she involuntarily opened it to read. It was his letter. A very small paper in it. She mentioned her goodbye to her job and stated that she would write a letter in detail soon and concluded the letter with thanks for his warm hosting. 
The second letter to her is longer. 
I'll address you as Chinna, the way I used to call you in our childhood days. Calling you Shakuntala looks odd. 
Though older than you I failed to show warm affection like you. I came to this house many times to talk to you loads of things. But I returned without even disclosing a thing. I used to feel bad that I wounded your feelings. 
You know very well, when we were young, many bride grooms and their people went back as they never liked me. After that I disliked the thought of marriage. Many of my friends married amid their studies but I noticed a kind of displeasure in them.  Isn't it natural that after watching such people closely if women like me take an oath not to marry? As I frequently visited your home, a change came over in me. I liked the way you managed your family, children and yourself. I felt happy to see you arrange everything whenever your hubby returned home at whatever be the time. I felt that you are the main source behind the noble nature of the doctor. I never saw the sophistication you had in most of the educated., 
Four years back, a person proposed me. I didn't like him at that time. But he never married after that. He is a far relative of my sister. Now the match is settled. You both should come to my marriage. If not possible bless me that we too should live like you both. 
My 'would be' is not highly educated, he has some property. Though I never had any specialty, he liked me and wished to marry me. I too will try to be patient like you. On the day when we both returned home in rain, you never said a thing. To imagine it makes me furious. I want to write many more but didn't know how to write, let me fold my hands to you both in respect. Bye, you are younger to me so let me bless you once again.
 –yours 
Kamala 
Later Madhava Rao too read it. He looked at Shakuntala with a smile. Shakuntala turned her looks down at the soil and then lifted up her head slowly looking into his eyes. A teardrop glistened in it. 
*****
Please follow and like us: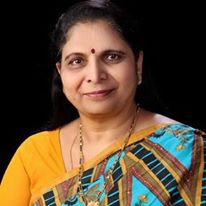 A native of Nizamabad, writes poetry in English and Telugu, Novels , stories In Telugu. Translates from Telugu to English and English to Telugu.
Published 5 poetry volumes in Telugu, 5 story anthologies, 5 novels and 32 translations. Loves and lives in poetry.